High Quality and Durability
Close tolerance, high volume production has been a Mitchell hallmark since our earliest beginnings. Those illustrated here are but a few of the items we produce for the Electronic, Refrigeration, Trucking and Heavy Equipment industries. While the list is almost endless, MITCHELL has the capability to fulfill your every requirement for:
Bushings
Machined Forgings
Machined Castings
Nuts
Plugs
Shafts
Clevises
Threaded Studs
Spacers
Pins
Bolts
Screws
Special Fittings
Jig Drilled Fittings
Plus Many Other Parts
We purchase and machine all types of steel, aluminum, brass, copper, bronze and plastics as per customers specs. (all from major suppliers and certification upon request) We also machine customer supplied materials including castings and forgings.
We have three sister companies in the APX family, the addition of these companies expands our abilities. These added abilities are:
Custom Design
Protyping
Sheet Metal Fabrication
Laser Processing Centers
CNC Turret Punching & Forming
 CAD/ CAM Design Systems
Short Production/Long Production Run
 Just In Time Manufacturing
Welding including Heliarc, TIG, MIG, and Stick
Finishing, Painting, Power Coating, Electrostatic Painting
Custom coloring for both liquid and powder paint
Refurbishing of previously painted parts and equipment
30′ x 10′ steel grit blast booth and phosphate wash system
30′ cross-draft booth with capacity up 30′ long and 30,000 pound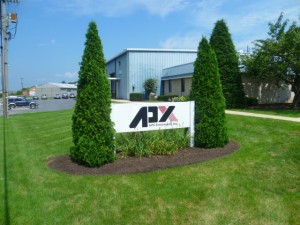 We have three sister companies in the APX family, the addition of these companies expands our abilities. These added abilities are:
APX ENCLOSURES